GENDER BIAS IN EDUCATION
Shruti Raina

Research Scholar, Department of Education, University of Jammu, J&K,. India
Keywords:
Gender socialization, sexist hidden curriculum, gender biased texts and gender biased language
Abstract
Gender Bias in Education is an insidious problem that causes very few people to stand up and take notice. Over the years, the uneven distribution of teacher time, energy, attention and talent with boys getting the lion's share, takes its tolls on girls. Whatever be the cause there is a gap in enrolment. The social barriers standing in the way of girls attending schools-poverty, compulsions of older girls in family having to look after the home and siblings, the conceptions or misconceptions that girls don't need education and that what is taught in the schools is irrelevant to them, parents seeing limited economic benefits in educating daughters, lack of women teachers and separate schools for girls, supportive facilities and transport facilities, all these inhibit parents from getting the girl child enrolled. There is also a gap in retention of girls in schools even if they enrol at the primary stage. The gender discrimination in schools is an extension of what we think in the family, in society and the community in which we live. The gender bias in education reaches beyond socialization patterns: bias is embedded in textbooks, lessons, language and teacher interactions with students. This type of gender bias is a part of the hidden curriculum of lessons taught implicitly to students through the everyday functioning of their classroom. The present paper intends to highlight these issues and challenges which need attention and suggests appropriate strategies so that the gender positive environment is reinforced in educational system.
Downloads
Download data is not yet available.
References
Ahmed, Firoz Bakht. (2006). Male Bias in School Texts. The Tribune Online Edition.Chandigarh, India (Feb. 26). http://www.tribuneindia.com

Bailey, S. (1992). How Schools Shortchange Girls: The AAUW Report. New York, NY: Marlowe & Company.

Blumberg,R.L.(2007).Gender Bias in Textbooks: A Hidden Obstacle on the Road to Gender Equality in Education. Education For All Global Monitoring Report 2008: Education For All By 2015: Will We Make It? ; p.54.2008/ED/EFA/MRT/PI/18

Chapman,A.(2008).GenderBiasInEducation.Retrievedfromhttp://www.edchange.orgh/multicultu ral/papers/genderbias.html

Christie,A.(2005). Recognizing (Almost) Invisible Gender Bias in Teacher Student Interactions. Sixteenth Interactional Society for Information Technology & Teacher Education Conference Proceedings: 742-749, Norfolk,VA:AACE.

Jassey, Ikuko Anjo.(1998). Gender in Elementary School Texts. Japan Quarterly 45 (JanuaryMarch):87-93.

GenderAndEducation(2012).Retrievedfromhttp://en.m.wikipedia.org/wiki/Gender_and_education

GenderandHiddenCurriculum.(2010).Retrievedfromhttp://www.earlhamsociologypages.co.uk/Gender%20and%20Hidden%20Curriculum.html.

Jones. K., Evans, C., Byrd, R., & Campbell, K. (2000). Gender Equity Training and Teaching Behaviour. Journal of Instructional Psychology, 27 (3), 173-178.

Kahle, J. B. (2004). Will girls be left behind? Gender differences and accountability. Journal of Research in Science Teaching, 41(10), 961–969.

Kalia, Narendra Nath. (1979). The Lies We Tell Our Children: Sexism in Indian Education. New Delhi: Vikas Publishing House.

Liu, F. (2006). School Culture and Gender. In C. Skelton, B. Francis, & L. Smulyan (Eds.), The SAGE Handbook of Gender and Education (pp. 425–438). Thousand Oaks, CA: Sage

Marshall, C.S. & Reihartz, J. (1997). Gender Issues In The Classroom. Clearinghouse, 70 (6), 333-338.

McCormick, P. (1995). Are girls taught to fail? U.S. Catholic, 60, (2), 38-42.

Ramachandran,P.(2001).Gender Discrimination in School System. The Hindu:Dec.18,2001.Retrievedfromhttp://www.hindu.com/thehindu/edu/2001/12/18/stories/ 2001121800030200.html

Sadker, M., & Sadker, D. (1994). Failing at fairness: How our schools cheat girls. New York: Simon & Schuster

Spender, D. (1982). Invisible women: The school scandal. London: The Women's Press.

Srinivasan,M.(2010).How Textbooks Allow Space for Social Biases Or Writers' Prejudices.TheHindu:Cities/Chennai:Aug.11,2010.Retrievedfromhttp://www.thehindu.com /news/cities/chennai

Scantlebury,K.(2009).Gender Bias In Teaching. Psychology of Classroom Learning: An Encyclopedia.pp.221-224.Detroit: Macmillan Reference USA

Tobin, K., & Gallagher, J. J. (1987). The Role of Target Students in the Science Classroom. Journal of Research in Science Teaching, 24(1), 61–75.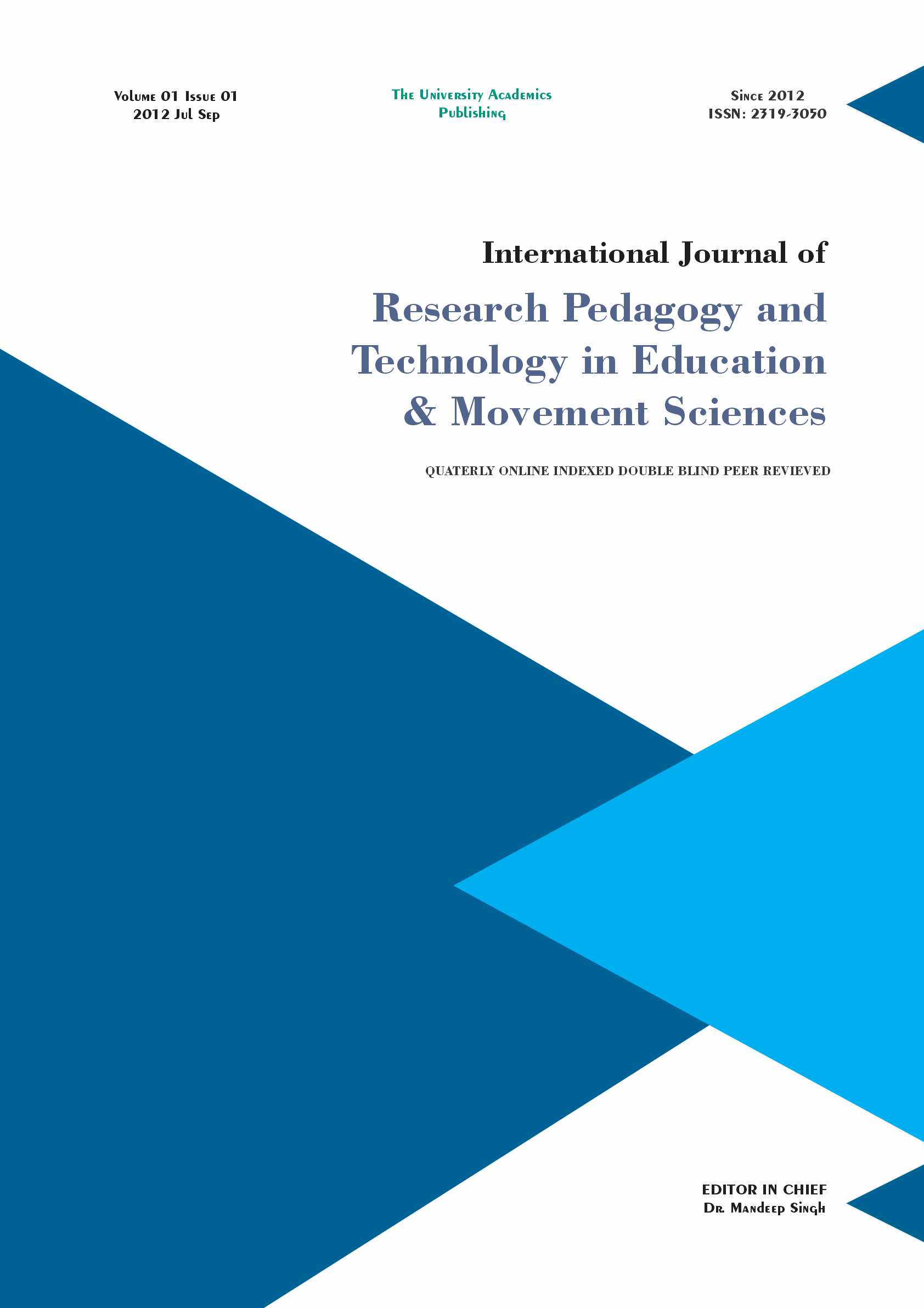 How to Cite
Raina, S. (2021). GENDER BIAS IN EDUCATION. INTERNATIONAL JOURNAL OF RESEARCH PEDAGOGY AND TECHNOLOGY IN EDUCATION AND MOVEMENT SCIENCES, 1(02). Retrieved from https://ijems.net/index.php/ijem/article/view/10
Section
Research Articles