ENERGY SYSTEMS AND PHYSIOLOGICAL DEMANDS IN BASKETBALL AND NETBAL
Bhagat Singh

M.D.University Rohtak, India
Keywords:
Energy System, Physiological Demands and Player
Abstract
The Aerobic energy system provides a steady supply of energy throughout the duration of a game.( Netball is having more aerobic activity in comparisons with the Basketball), and a player must have trained cardiovascular system in order to provide the necessary amount of oxygen.The dominant energy system in basketball and Netball are different because of the nature of movements in both the games under study. Netball is considered the game of interval whereas game of Basketball is known for explosive speed and power. By comparing four of the playing positions-center, goal shooter, goal keeper and goal defense- the information is gathered. The goal shooter caught the ball on more occasion than the other positions, and was stationary for a considerable amount of time during the game. . The timing and amount of energy liberation largely depend upon the conditioning and delivery of energy systems of a player. That would be the deciding factor in the performance of an individual player.
Downloads
Download data is not yet available.
References
1. Brooks,G.A.,and Fahey,T.D.: Exercise Physiology; Humanbioenergetics and its applications.Newyork,John Wily,1984,p.76

2. Costil,D.L.,and Fox,E.L.,energetic of Basketball Med Sci Sports 1969.

3. Hermansen,L; anaerobic energy release.Med Sci Sports 32-34 1976.

4. Cerretelli,P., Ambrosoli,G: anaerobic recovery in man. Europ J appl Physiol,1975.

5. Mathews,D.K., and E.L.Fox. The physiological basis of Physical-Education and athletics 6th edition 2009.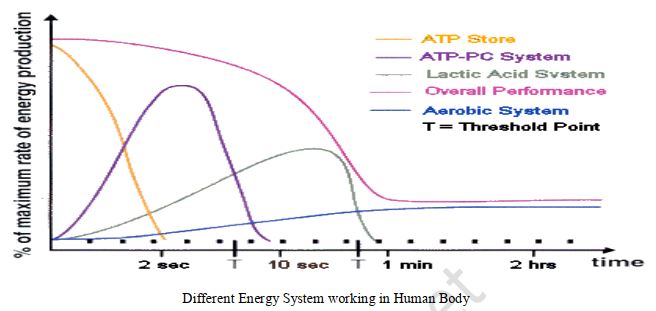 How to Cite
Singh, B. (2021). ENERGY SYSTEMS AND PHYSIOLOGICAL DEMANDS IN BASKETBALL AND NETBAL. INTERNATIONAL JOURNAL OF RESEARCH PEDAGOGY AND TECHNOLOGY IN EDUCATION AND MOVEMENT SCIENCES, 3(01). Retrieved from https://ijems.net/index.php/ijem/article/view/83
Section
Research Articles