A STUDY ON SPORTS ACHIEVEMENT MOTIVATION AMONG STATE LEVEL KHO-KHO PLAYERS
DR.ANURADHA DHAR

S.N. M.P. Memorial Madhyamik Bidyalaya Darjeeling, W.B

DR. RAJU JAISWAL

New Jalpaiguri Railway Colony High School Darjeeling, W.B
Keywords:
sports Achievement Motivation, Actual sports competition achievement, Kho- Kho
Abstract
The purpose of the present study was to find out the relation between sports Achievement Motivation and actual competition achievement among difference state level kho-kho players. Seventy-two (N=72) State level kho-kho players from six Districts in NORTH ZONE were selected as the subject of the present studies. There age ranged between 19 to 25 years. All the subjects possessed sound physique because subjects were kho-kho players. All the players undergoing participation in State level kho-kho tournament throughout the year. Their general health condition was good. In the present study, the criterion measure was only six state level kho-kho teams have been selected as the subjects of the north zone state kho-kho tournament.
Downloads
Download data is not yet available.
References
1. Bose, Bhattacharya, Psychology in Sports (5th Edition) oriental publisher, New Delhi, 1988.

2. Chauhan, S.S Advanced Education Psychology (5 Edition). Vikash Publising House Pvt. Ltd. 1992.

3. Garrett, H. E. and Woodworth, R. S.(1981) Statistics in Psychology and Education. Bombey: Vakils Feffer and Simons Ltd.

4. Kamlesh, M. L. Psychology in Physical Education and sports. Metropolitan Publishad, New Delhi, 1986.

5. Samraj, P. Performance of University Athletes In Relation to Achievement Motivation Annamalai University, Tamil Nadu.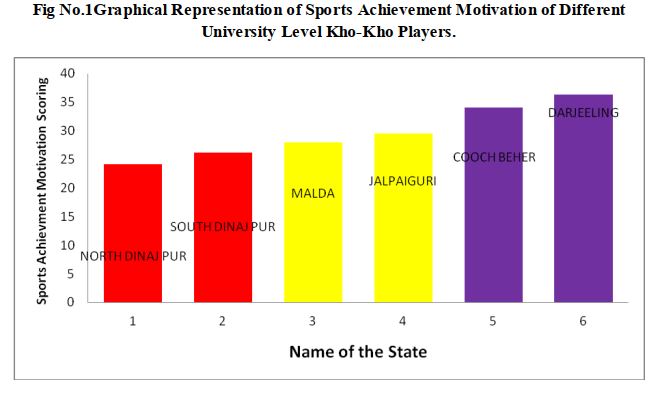 How to Cite
DHAR, A., & JAISWAL, R. (2021). A STUDY ON SPORTS ACHIEVEMENT MOTIVATION AMONG STATE LEVEL KHO-KHO PLAYERS. INTERNATIONAL JOURNAL OF RESEARCH PEDAGOGY AND TECHNOLOGY IN EDUCATION AND MOVEMENT SCIENCES, 3(03). Retrieved from https://ijems.net/index.php/ijem/article/view/101
Section
Research Articles