PREVALENCE OF LIFESTYLE DISEASES: COMPARISON WITH RESPECT TO GENDER, LOCALE, AGE AND LIFESTYLE
NANDYA

Research Scholar, Department of Physical Education,Kannur University, Kerala, India

DR ANIL RAMACHANDRAN

Asstt. Prof.,Department of Physical Education and Sports Sciences Kannur University, Kerala, India

DEEPAK G

Asstt. Prof.,Department of Physical Education and Sports Sciences Kannur University, Kerala, India
Keywords:
Lifestyle Disease, Physical Activity and Factors
Abstract
The purpose of the study was to analyse the prevalence of lifestyle disease among people wit h respect to locale, gender, type of food, physical activity and age group. The participants of the study were between the age of 20 to 94 (N = 200) from various regions of Palakkad district, Kerala during the year 2015. The direct personal interview method was used to collect data from the participants. The demographic and response data were analysed by using frequencies and percentages. The result shows that, incidence of lifestyle disease in rural area was 33.85% and in urban area was 37.14%; among male participants the incidence was 35.87 % and among females it was 31.48 %, In the case of vegetarians the percentage of incidence of lifestyle disease was 28% and among non vegetarians it was 36.67%; among physically active participants the incidence was 9% and among sedentary participants it was 62%. In age wise categorization, in the age group of 20 to 40 years the incidence was 9.76%, in the age of 40 to 60 years it was 38.46%, and in the age of 60 and above it was 72.5%. The study having demonstrated a high prevalence of lifestyle diseases and their risk factor warrants serious consideration for development and implementation of relevant health promotion and intervention programmes that will improve the general health and reduce the risk factors.
Downloads
Download data is not yet available.
References
Thomas, D. Q., & Kotecki, J. E. (2007). Physical Activity and Health, An Interactive Approach. USA: Jones and Bartlett Publishers.

Rathee, B. S., Nain, B., & Sharma, S. (2008). Our Health is in our Hands. Delhi: New Gyan Offset Printers.

Edlin, G., & Golanty, E. (2004). Health and Wellness. USA: Jones and Bartlett Publishers.

Service, U. D. (1998). Physical Activity and Health. USA: Jones and Bartlett Publishers.

BIBLIOGRAPHY \l 16393 Sochaliya, K. M., Parmar, D. V., & Yadav, S. B. (2012). A Study on Prevalence of Lifestyle Diseases and its Risk Factors in Urban Area of Jamnagar City. National Journal of Community medicine , 595 - 600.

BIBLIOGRAPHY \l 16393 Craig, W. J. (2009). Health Effects of Vegan Diets. The American Journal of Clinical Nutrition, http://www.ncbi.nlm.nih.gov/pubmed/19279075

BIBLIOGRAPHY \l 16393 Pappachan, M. J. (2011). Increasing Prevalence of Lifestyle Diseases : High Time for Action. Indian Journal of Medical Research , 143 - 145.

JAMA and Archives Journals. (2008, January 29). Sedentary Lifestyles Associated With Accelerated Aging Process. Science Daily. Retrieved April 3, 2016 from www.sciencedaily.com/releases/2008/01/080128165734.htm J, A. K., T.O, I. M., E, E., A, Y. A., & C, O. A. (2014). Dietary pattern, lifestyle, nutrition status and prevalence of hypertension among traders in Sokoto Central market, Sokoto, Nigeria. International Journal of Nutrition and Metabolism , 9-17.

Kanniyappan, D., Kalidhas, P., & Aruna, R. M. (2011). Age, gender related prevalence of cardiovascular risk factors in overweight and obese south Indian adults. International Journal of Biological and Medical Research , 513-522.

Kumar, A., Garg, S., & Gupta, H. L. (2005). A Study of Prevalence of Risk Factors for Coronary Artery Diseases in Asymptomatic Middle Aged and Elderly Subjects. JK Science : Journal of Medical Education and Research , 81-83.

HYPERLINK "http://www.ncbi.nlm.nih.gov/pmc/articles/PMC4001337/" http://www.ncbi.nlm.nih.gov/pmc/articles/PMC4001337/

HYPERLINK "http://www.academicjournals.org/IJNAM" http://www.academicjournals.org/IJNAM

HYPERLINK "https://doaj.org/article/14c1a9b87cc24da6b81a2f255a7cef04"

https://doaj.org/article/14c1a9b87cc24da6b81a2f255a7cef04

HYPERLINK "https://en.wikipedia.org/wiki/Disease" https://en.wikipedia.org/wiki/Disease

https://en.wikipedia.org/wiki/Lists_of_diseases

http://www.medicinenet.com/diseases_and_conditions/article.htm

www.journalijar.com/uploads/177_IJAR-5726.pdf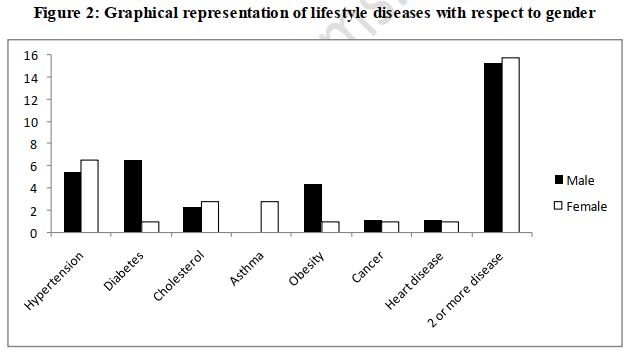 How to Cite
NANDYA, RAMACHANDRAN, A., & G, D. (2021). PREVALENCE OF LIFESTYLE DISEASES: COMPARISON WITH RESPECT TO GENDER, LOCALE, AGE AND LIFESTYLE. INTERNATIONAL JOURNAL OF RESEARCH PEDAGOGY AND TECHNOLOGY IN EDUCATION AND MOVEMENT SCIENCES, 5(02). Retrieved from https://ijems.net/index.php/ijem/article/view/156
Section
Research Articles