THE CURRENT PRACTICE AND CHALLENGES OF COACHING VOLLEYBALL; IN THE CASE OF SOME SELECTED WOREDAS VOLLEYBALL PROJECT IN HADIYA ZONE,ETHIOPIA
Beletech Gorfu

High school teacher

Biruk Hundito

Wachemo University
Keywords:
volleyball, challenges, coaches and Current Status
Abstract
The main objective of the study was to investigate the current practice and challenges of coaching volleyball sports in the case of some selected woredas volleyball project in Hadiya zone. To achieve this objective, Cross sectional survey method helps to have general understanding of the problem by studying the current status, nature of the prevailing conditions and trends through relevant and precise information. The research populations include volleyball coaches, sport administrator officer from Hadiya Zone and selected woredas and volleyball players. Total population are 95, were selected with purposive sampling. Four instruments such as questionnaire, interview, observation and document analysis were used to gather the data. The data was entered in to SPSS version 20. The descriptive analysis of the data was analyzed by using both qualitative and quantitative methods, such as frequency counts, percentage, mean, standard deviation and descriptive statements. The major findings of this study are; the coaches in the Zone are not well trained, the projects lack of interest of the trainer and coaches,  facilities and equipment, scientific training methods and less attention given for the project, less emphasis given to the value of volleyball in general and in particular for projects, absence of transparent and accountable of administration, absence of long term and permanent fund for the projects and lack of sufficient volleyball courts in the area and less emphasis given to even the existing ones, limited number of coaches and even lack of professional competencies among them was also another core problem raised by the participants of the study. Based on the findings the following recommendations were suggested: The coaches who are assigned in the projects must be qualify their profession to identify the talent of the players, the concerned organ  at zone and  woredas level offices should establish clear and effective follow up, monitoring and evaluation procedures, allocate enough budgets which are needed for volleyball projects, facilitate regular capacity building trainings, especially more emphasis has to be given to upgrade the license for volleyball coaches at different levels.
Downloads
Download data is not yet available.
References
Abera, A, (2017) "Youth Athletics Sport Training Projects' of the Southern Region, Ethiopia": Perceived Deterrent Factors that Need Scaling up." IOSR Journal of Sports and Physical Education (IOSR-JSPE) 4.4 (2017): 04-11.
Alfermann, D., & Stambulova, N. (2007). Career transitions and career termination. In G. Tenenbaum & R. Eklund (Eds.), Handbook of sport psychology (pp. 712-736). New York: Wiley.
American Development Model (2014) "long-term athlete development principles" United States Olympic Committee.
Baker, J. (2003). Early specialization in youth sport: A requirement for adult expertise? High Ability Studies, 14(1), 85-94. doi:10.1080/13598130304091
Chryshyon( 2007-2011) "Developing a yang athletes Basketball coaching" handout Debora West and Bennet Lombardo,(1976)"The trainer responsibility."( Page 144)
Davids, K., & Baker, J. (2007). Genes, environment and sport performance. Sports Medicine, 37(11), 961-980.
Dougherty, N. J., Goldberger, A. S. and Carpenter, L. J. (2007) Sport, Physical Activity, and the Law (3thed.) Sagamore Publishing, LLC, United States.
Erickson, K., Côté, J. and Fraser-Thomas, J. (2007) The sport experiences, milestones, and educational activities associated with the development of high-performance coaches. The Sport Psychologist, 21, 302-316.
International Olympic Committee (2010). Sport Administration Manual.Rome: HurfordEnterprises Ltd.
Johnson, M. V. M. and Easter, B. A. (2007) Legal Liability for Cheerleading Injuries: Implications for Universities and Coaches. Journal of legal aspects of sport, 17(2), 213-252.
Mesquita, I., Borges, M., Rosado, A. and De Souza, A. (2011) Handball Coaches' Perceptions about the Value of Working Competences According to their Coaching Background. Journal of Sports Science and Medicine, 10, 193-202.
Mesquita, I., Isidro, S. and Rosado, A. (2010) Portuguese Coaches' Perceptions of and Preferences for Knowledge Sources Related to their Professional Background. Journal of Sports Science Medicine, 9, 480-489.
Mandeep Singh (2010). Evaluation And Improvement Of Sports Techniques Through Biomechanical Updated Analyzing Technology, University News, Journal of Higher Education Association of Indian Universities, Association of Indian Universities, Vol:48:Issue.05;2010 Pp45-57, 2010
Nathial, Mandeep Singh. A COMPARATIVE AND ANALYTICAL STUDY OF SELF-ESTEEM AND JOB SATISFACTION IN ATHLETES AND NON ATHLETES. Journal of Advances in Social Science and Humanities, 2(10). https://doi.org/10.15520/jassh210123
Singh, M., Kour, R., & Kour, A.,. A collaborative diversified investigation of respective responses of sports person coaches and organizations on criminalization of doping.International Journal of Health Sciences,6(S3), 11295–11310. https://doi.org/10.53730/ijhs.v6nS3.8641
Mandeep Singh., Assessment of Vocational Interests of Pahadi & Bakarwal School Students In Relation To Their Gender. Int J Recent Sci Res. 9(3), pp. 24817-24819. DOI: http://dx.doi.org/10.24327/ijrsr.2018.0903.1731
Dr. Mandeep Singh, 2017. "A study of awareness of inhouse doping errors among national level players and sports administrators in J&K state of India", International Journal of Current Research, 9, (01), 45226-45227. http://www.journalcra.com/sites/default/files/issue-pdf/20036.pdf
Dr.Mandeep Singh & J N Baliya, 2013; "A study of family stress among working and non-working parents", International Journal of Research in Social Sciences. Vol 2, 2. 194-201. https://indianjournals.com/ijor.aspx?target=ijor:ijrss&volume=2&issue=2&article=013
Mandeep Singh, 2019; "Effect of Mobile Screen Psychomotor Digital Image Motivators in Person Technique in Reducing Anxiety Level of Intervarsity Players of Cluster University Jammu", Blue Eyes Intelligence Engineering and Sciences Publication (BEIESP). Volume-9 Issue-1, October 2019, PP: 3750-3752, DOI: 10.35940/ijeat.A9811.109119. https://www.ijeat.org/portfolio-item/A9811109119/
Mandeep Singh. (2018). THE AWARENESS OF MOVEMENT AND FITNESS SCIENCES AMONG SCHOOL, UNDER GRADUATE AND POST GRADUATE LEVEL STUDENTS: EMPOWERING EDUCATION THROUGH PHYSICAL EDUCATION. European Journal of Physical Education and Sport Science, 4(3). https://doi.org/10.5281/zenodo.1218149
N. . Mohamed, Aishwary Awasthi, N. . Kulkarni, S. . Thota, M. . Singh, and S. . Vithalrao Dhole, "Decision Tree Based Data Pruning with the Estimation of Oversampling Attributes for the Secure Communication in IOT", Int J Intell Syst Appl Eng, vol. 10, no. 2s, pp. 212 –, Dec. 2022.
Trninić, V., Papic, V., & Marko, T. (2009): Role of expert coaches in development of top-level athletes' careers in individual and team sports, Acta Kinesiologica 3 (1), 99-106
Thanos, K. (2009). Strategic Planning in University Athletic Departments in the United Kingdom. The Sport Journal. 12(2).Retrieved from http://www.thesportjournal.org/article/strategic-planning-university-athletic-departments-united-kingdom
Vaeyens, R., Lenoir, M., Williams, A.M., & Philippaerts, R. (2008). Talent identification and development programmes in sport: current models and future directions. Sports Medicine, 38, pp. 703-7 14.
Williams, M., Reilly T. (2000). Talent Identification and Development in Soccer. Journal of Sport Science.18, 657-667 Retrieved from http://www.tandf.co.uk/ journals
Wilson, G.V., (2006). The effects of external rewards on intrinsic Motivation.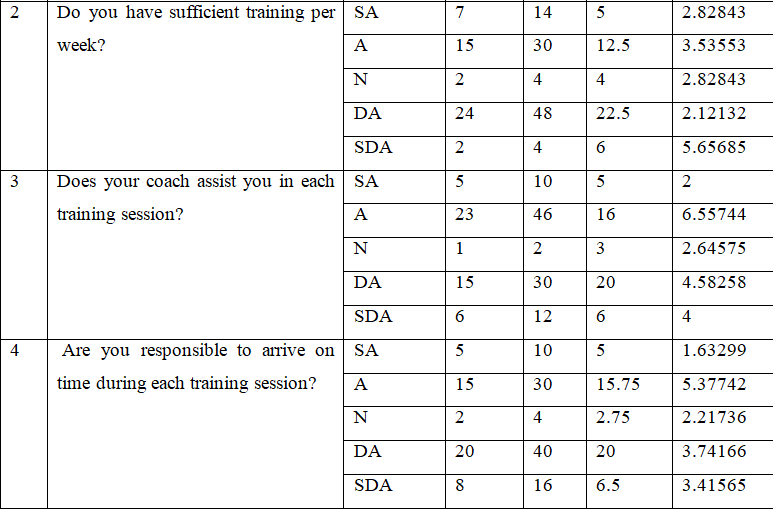 How to Cite
Gorfu, B., & Hundito, B. (2022). THE CURRENT PRACTICE AND CHALLENGES OF COACHING VOLLEYBALL; IN THE CASE OF SOME SELECTED WOREDAS VOLLEYBALL PROJECT IN HADIYA ZONE,ETHIOPIA. INTERNATIONAL JOURNAL OF RESEARCH PEDAGOGY AND TECHNOLOGY IN EDUCATION AND MOVEMENT SCIENCES, 11(04), 2-12. https://doi.org/10.55968/ijems.v11i04.221