The ANALYSIS OF ETHIOPIAN BASKETBALL PREMIER LEAGUE FOR THE YEAR 2020/21G.C MATCH
ANALYSIS OF ETHIOPIAN BASKETBALL PREMIER LEAGUE FOR THE YEAR 2020/21G.C MATCH
MULUGETA TAGESSE

publication
Keywords:
basketball, analysis, club ,accuracy and shooting
Abstract
ABSTRACT
The sport of basketball is defined as "A game played between two teams of five players in which goals are scored by throwing a ball through a netted hoop fixed at each end of the court (Oxford Dictionaries, 2017). In the country Ethiopia different sport competitions were held every year. The Ethiopian basketball league is one of the competitions held in the country. Basketball game is one of the competitions held in the country with the support of great fun because the game is very interesting and its objective is to shot a ball in the basket with a 24 second shooting attempt interval, in basketball, the shot clock   is a timer designed to increase the game's pace and scoring (databaseBasketball.com entry Archived 2006). But the shooting results of all team are too much small not only the University sport competition but also the basketball clubs of the country. The average score of the Ethiopian basketball club is no more than 60 points per game with in the total time of 40 minutes but they have a minimum chance of 50 attempts in average for a team with in the total time of the game. And it can be increased by the rebounding opportunity of the team. The investigation of this research finding will show the analysis of different variables of basketball competitions like passing accuracy, shooting attempt and shooting accuracy, ball interceptions and rebounding.
The population of the study was all basketball clubs which were participate in Ethiopian basketball league competitions which were held at Bahirdar from this population the researcher decided purposively to have a sample size of all 5 male basketball clubs match. The researchers used purposively to have a sample of 5 male basketball teams of 4 matches these are a match between Diredawa kenema basketball club Vs Wolkitie town basketball club, Hawasa town basketball club Vs Yeka Subcity basketball club, Hawasa town basketball club and Wolkitie town basketball club and Gondar town basketball club and Diredawa kenema basketball club to analyse the shooting status, passing status rebounding status and the ball interception status of the clubs per match.
Based on the match held at Bahirdar town, clubs shooting accuracy in the first match Diredawa basketball club 036%, Wolkitie basketball club 0.32%, Hawassa basketball club 0.37%, Yeka subcity basketball club 0.30%, and Gonder basketball club 0.33% was recorded  and in the second match Hawassa basketball club 0.35%, Wolkitie basketball club 0.34%, Diredawa basketball club 0.41% was recorded. As shown the percentage of shooting accuracy of all clubs the status is low compared with the minimum attempt of shooting per game.
Downloads
Download data is not yet available.
References
Strange, Mike (2007-11-07). "Temple set stage for shot clock". The Knoxville NewsSentinel. Scripps Interactive Newspaper Group. Archived from the original on November 9, 2007. Retrieved 2012-01-13.
Zillgitt, Jeff (December 24, 2011). "New points of emphasis in NBA officiating". USA Today. Retrieved February 4, 2012.
Halley, Jim (5 May 2011). "Focus on high school shot clock heats up as states make move – USATODAY.com". USA Today. ISSN 0734-7456. Retrieved 31 December 2011.
Mandeep Singh (2010). Evaluation And Improvement Of Sports Techniques Through Biomechanical Updated Analyzing Technology, University News, Journal of Higher Education Association of Indian Universities, Association of Indian Universities, Vol:48:Issue.05;2010 Pp45-57, 2010
Nathial, Mandeep Singh. A COMPARATIVE AND ANALYTICAL STUDY OF SELF-ESTEEM AND JOB SATISFACTION IN ATHLETES AND NON ATHLETES. Journal of Advances in Social Science and Humanities, 2(10). https://doi.org/10.15520/jassh210123
Marginalization Of Nomadic Tribe: An Overview of Decline In Seasonal Migration, Indian Journal Of Applied Research (IJAR)ISSN No 2249 - 555X,DOI: 10.36106, Volume-11, Issue- 07, July 2021
Transforming India Through The Lens of Pandit DeenDayal Uphadhya, Research Discourse: An International Peer Reviewed Refereed Research Journal, ISSN- 2277-2014, Volume- XII, Issue No, July-Sept 2021, pp.
Impact of Migration on Mahasha community in Kathua district, Researcher: Bi-Annual, Multidisciplinary and Refereed (Peer-Reviewed) Journal of University of Jammu, ISSN no:2278-9022, VOL-XVII No:1, 2021.
Singh, M., Kour, R., & Kour, A.,. A collaborative diversified investigation of respective responses of sports person coaches and organizations on criminalization of doping.International Journal of Health Sciences,6(S3), 11295–11310. https://doi.org/10.53730/ijhs.v6nS3.8641
Mandeep Singh., Assessment of Vocational Interests of Pahadi & Bakarwal School Students In Relation To Their Gender. Int J Recent Sci Res. 9(3), pp. 24817-24819. DOI: http://dx.doi.org/10.24327/ijrsr.2018.0903.1731
Dr. Mandeep Singh, 2017. "A study of awareness of inhouse doping errors among national level players and sports administrators in J&K state of India", International Journal of Current Research, 9, (01), 45226-45227. http://www.journalcra.com/sites/default/files/issue-pdf/20036.pdf
Dr.Mandeep Singh & J N Baliya, 2013; "A study of family stress among working and non-working parents", International Journal of Research in Social Sciences. Vol 2, 2. 194-201. https://indianjournals.com/ijor.aspx?target=ijor:ijrss&volume=2&issue=2&article=013
Mandeep Singh, 2019; "Effect of Mobile Screen Psychomotor Digital Image Motivators in Person Technique in Reducing Anxiety Level of Intervarsity Players of Cluster University Jammu", Blue Eyes Intelligence Engineering and Sciences Publication (BEIESP). Volume-9 Issue-1, October 2019, PP: 3750-3752, DOI: 10.35940/ijeat.A9811.109119. https://www.ijeat.org/portfolio-item/A9811109119/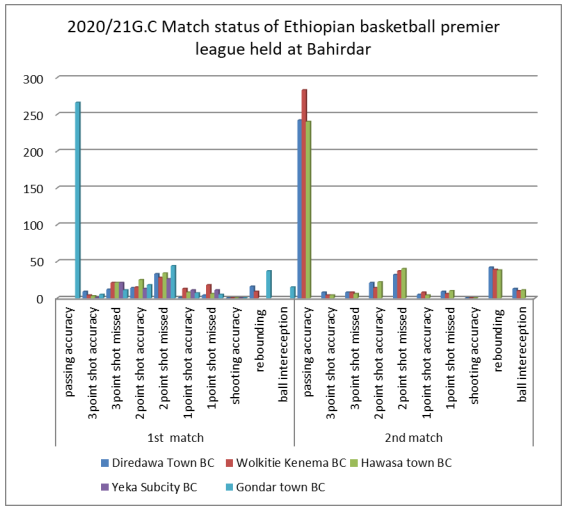 How to Cite
TAGESSE, M. (2022). The ANALYSIS OF ETHIOPIAN BASKETBALL PREMIER LEAGUE FOR THE YEAR 2020/21G.C MATCH : ANALYSIS OF ETHIOPIAN BASKETBALL PREMIER LEAGUE FOR THE YEAR 2020/21G.C MATCH . INTERNATIONAL JOURNAL OF RESEARCH PEDAGOGY AND TECHNOLOGY IN EDUCATION AND MOVEMENT SCIENCES, 11(04), 33-38. https://doi.org/10.55968/ijems.v11i04.222
Section
Research Articles