TRADITION PRANAYAM TRAINING ASSESSMENT ON PHYSIOLOGICAL PARAMETERS
Dr. Harneet Singh

Assistant Professor, Dept of Physical Education & Sports Multani Mal Modi College Patiala

Mangaldeep

Research Scholar, Department of Physical Education, Punjabi University, Patiala, Punjab
Keywords:
Pranayam, Cardiovascular endurance and Breath hold capacity
Abstract
The aim of the study is to assess the effects of pranayam training tradition on certain physiological parameters among school going children. Two hundred school children (age range 13-16 years) registered in the class 6th to 10th, selected randomly to participate in the study. Subject was divided in two groups' 100N control and 100N experimental groups.  Physiological Parameters measures were obtained at baseline and at the end of pranayam training programme. Student's (T) test was followed out to examine pre- and post-test values. Data noted that pranayam exercises were associated with significant decreases (p < 0.05) in Cardiovascular endurance and Breath hold capacity with significant increases (p < 0.05) values. The authors' statistics demonstrate considerable physiological changes significantly affected by pranayam exercises in school going children. Examining relationships connected with the effects of training on physiological aspects add new dimensions that can help in assessing, directing and developing pranayam training programmes.
Downloads
Download data is not yet available.
References
An H. et al. (2010), A study of "Measures of Heart Rate Variability in Women Following a Meditation Technique".
Anurodh Singh Sisodia and Satendra Singh Tomar (2009), A study of the "Effects of Anuloma-Viloma Pranayam on selected Respiratory variables."
Blumenthal J.A. et al. (1989), done a research on "Cardio-vascular and Behavioral Effects of Aerobic Exercise Training in Healthy Older Men and Women".
BernardiL.et aI. (2007), done a research on "Reduced Hypoxic Ventilatory Response with Preserved Blood Oxygenation in Yoga Trainees and Himalayan Buddhist Monks at Altitude: Evidence of a Different Adaptive Strategy".
Bijlani RL. et al. (2005), done a research on "A Brief but Comprehensive Lifestyle Education Program Based on Yoga Reduces Risk Factors for Cardiovascular Disease and Diabetes Mellitus".
Clay C.C. et al. (2005), A study of "The Metabolic cost of hatha Yoga".
Chen T. L. et al. (2009), done a research on "The Effect of Yoga Exercise Intervention on Health Related Physical Fitness in School – Age Asthmatic Children".
Chen K.M. et al. (2O10), done a research on "Silver Yoga Exercises
Singh, M., Kadhim, M.M., Turki Jalil, A. et al. A systematic review of the protective effects of silymarin/silibinin against doxorubicin-induced cardiotoxicity. Cancer Cell Int 23, 88 (2023). https://doi.org/10.1186/s12935-023-02936-4 https://cancerci.biomedcentral.com/articles/10.1186/s12935-023-02936-4
Mandeep Singh Nathial, A Study of Adjustment and Emotional Intelligence of University Coaches in India, American Journal of Applied Psychology. Volume 3, Issue 6, November 2014 , pp. 122-126. doi: 10.11648/j.ajap.20140306.11
Nathial, Mandeep Singh. A COMPARATIVE AND ANALYTICAL STUDY OF SELF-ESTEEM AND JOB SATISFACTION IN ATHLETES AND NON ATHLETES. Journal of Advances in Social Science and Humanities, 2(10).https://doi.org/10.15520/jassh210123
Singh, M., Kour, R., &Kour, A.,. A collaborative diversified investigation of respective responses of sports person coaches and organizations on criminalization of doping.International Journal of Health Sciences,6(S3), 11295–11310. https://doi.org/10.53730/ijhs.v6nS3.8641
Mandeep Singh., Assessment of Vocational Interests of Pahadi&Bakarwal School Students In Relation To Their Gender. Int J Recent Sci Res. 9(3), pp. 24817-24819. DOI: http://dx.doi.org/10.24327/ijrsr.2018.0903.1731
Dr. Mandeep Singh, 2017. "A study of awareness of inhouse doping errors among national level players and sports administrators in J&K state of India", International Journal of Current Research, 9, (01), 45226-45227. http://www.journalcra.com/sites/default/files/issue-pdf/20036.pdf
Mandeep Singh, 2019; "Effect of Mobile Screen Psychomotor Digital Image Motivators in Person Technique in Reducing Anxiety Level of Intervarsity Players of Cluster University Jammu, Blue Eyes Intelligence Engineering and Sciences Publication (BEIESP). Volume-9 Issue-1, October 2019, PP: 3750-3752, DOI: 10.35940/ijeat.A9811.109119. https://www.ijeat.org/portfolio-item/A9811109119/
Mandeep Singh. (2018). THE AWARENESS OF MOVEMENT AND FITNESS SCIENCES AMONG SCHOOL, UNDER GRADUATE AND POST GRADUATE LEVEL STUDENTS: EMPOWERING EDUCATION THROUGH PHYSICAL EDUCATION. European Journal of Physical Education and Sport Science, 4(3).https://doi.org/10.5281/zenodo.1218149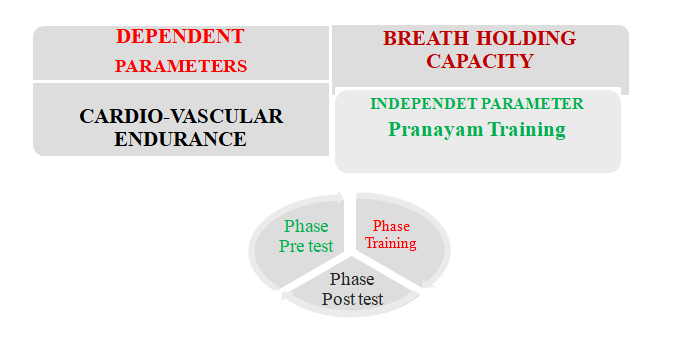 How to Cite
Dr. Harneet Singh, & Mangaldeep. (2023). TRADITION PRANAYAM TRAINING ASSESSMENT ON PHYSIOLOGICAL PARAMETERS. INTERNATIONAL JOURNAL OF RESEARCH PEDAGOGY AND TECHNOLOGY IN EDUCATION AND MOVEMENT SCIENCES, 12(02), 23-26. https://doi.org/10.55968/ijems.v12i02.273
Section
Research Articles
Copyright (c) 2023 Dr. Harneet Singh, Mangaldeep
This work is licensed under a Creative Commons Attribution 4.0 International License.