IMPACT OF RELATIONSHIP OF COACHES ON ATHLETES
Daljit Singh

Assistant Professor, Govt. College for Women Sirsa, Punjab, India

Baldev Singh

Associate Professor, Govt. National College Sirsa, Punjab, India
Keywords:
Athlete, Coaches, Sports and Relationship
Abstract
In a sporting context, athletes may endure extreme or excessive stress. Today, it's crucial to remember that nobody can keep the sport a secret. Sport has become a significant feature of our lives and is a social phenomenon that affects all facets of an individual's and society's existence. The numerous aspects of psychological relationships, such as successful communication and conflict between coaches and athletes, will be examined in the current study. The study's major goal is to understand the psychological factors that affect how well players perform in sports. The interaction between athletes and coaches is a key factor in fostering athletes' development. Ability of the coach to generate ideal working conditions based on their psychosocial and physical qualities
Downloads
Download data is not yet available.
References
Becker,A.J. (2009). It's Not What They Do, It's How They Do It: Athlete Experiences of Great Coaching. International Journal of Sports Science and Coaching, 4(1), 93–119.
Coykendall, T. (2014). Player Preferences for Coaching Behaviors. Sport Management Undergraduate: St. John Fisher College
Detling, N.J. (2001). An assessment of coaches' and athletes' perceptions of coaching behaviors. Ithaca College Theses
Holt, T. (2013). Interpersonal relationships and the association with athlete' s motivation, selfefficacy and fear of failure. Ithaca College Theses. Paper 15.
Jowett, S., & David, C.C. (2006). Perceptions of empathic accuracy and assumed similarity in the coach–athlete relationship. Loughborough University, United Kingdom, 45, 617–637. British Journal of Social Psychology
Jowett, S., & Shanmugam, V. (2016). Relational coaching in sport: Its psychological underpinnings and practical effectiveness. Loughborough University Institutional Repository: Routledge
Macmahon, Clare & Parrington, Lucy. (2017). Not All Athletes Are Equal, But Don't Call Me an Exerciser: Response to Araujo and Scharhag (2016). Scandinavian Journal of Medicine & Science in Sports. 27. 10.1111/sms.12864.
Singh, M., Kadhim, M.M., Turki Jalil, A. et al. A systematic review of the protective effects of silymarin/silibinin against doxorubicin-induced cardiotoxicity. Cancer Cell Int 23, 88 (2023). https://doi.org/10.1186/s12935-023-02936-4 https://cancerci.biomedcentral.com/articles/10.1186/s12935-023-02936-4#citeas
Mandeep Singh Nathial, A Study of Adjustment and Emotional Intelligence of University Coaches in India, American Journal of Applied Psychology. Volume 3, Issue 6, November 2014 , pp. 122-126. doi: 10.11648/j.ajap.20140306.11
Nathial, Mandeep Singh. A COMPARATIVE AND ANALYTICAL STUDY OF SELF-ESTEEM AND JOB SATISFACTION IN ATHLETES AND NON ATHLETES. Journal of Advances in Social Science and Humanities, 2(10).https://doi.org/10.15520/jassh210123
Singh, M., Kour, R., & Kour, A.,. A collaborative diversified investigation of respective responses of sports person coaches and organizations on criminalization of doping.International Journal of Health Sciences,6(S3), 11295–11310. https://doi.org/10.53730/ijhs.v6nS3.8641
Mandeep Singh., Assessment of Vocational Interests of Pahadi & Bakarwal School Students In Relation To Their Gender. Int J Recent Sci Res. 9(3), pp. 24817-24819. DOI: http://dx.doi.org/10.24327/ijrsr.2018.0903.1731
Dr. Mandeep Singh, 2017. "A study of awareness of inhouse doping errors among national level players and sports administrators in J&K state of India", International Journal of Current Research, 9, (01), 45226-45227. http://www.journalcra.com/sites/default/files/issue-pdf/20036.pdf
Mandeep Singh, 2019; "Effect of Mobile Screen Psychomotor Digital Image Motivators in Person Technique in Reducing Anxiety Level of Intervarsity Players of Cluster University Jammu, Blue Eyes Intelligence Engineering and Sciences Publication (BEIESP). Volume-9 Issue-1, October 2019, PP: 3750-3752, DOI: 10.35940/ijeat.A9811.109119. https://www.ijeat.org/portfolio-item/A9811109119/
Mandeep Singh. (2018). THE AWARENESS OF MOVEMENT AND FITNESS SCIENCES AMONG SCHOOL, UNDER GRADUATE AND POST GRADUATE LEVEL STUDENTS: EMPOWERING EDUCATION THROUGH PHYSICAL EDUCATION. European Journal of Physical Education and Sport Science, 4(3).https://doi.org/10.5281/zenodo.1218149
Singh Nathial, D. M. (2012). ANALYZING THE CREDIT BASED SYSTEM IN PHYSICAL EDUCATION. International Journal of Behavioral Social and Movement Sciences, 1(3), 172–176. Retrieved from https://ijobsms.org/index.php/ijobsms/article/view/37
SINGH, M., & SINGH SIDHU, A. (2016). A COMPARATIVE STUDY OF BODY COMPOSITION AND RELATIVE HEALTH STATUS AMONG RESIDENT AND NON-RESIDENT STUDENTS IN DIFFERENT SCHOOLS OF J&K. International Journal of Behavioral Social and Movement Sciences, 5(3), 08–13. Retrieved from https://ijobsms.org/index.php/ijobsms/article/view/320
SINGH SIDHU, A., & SINGH, M. (2022). KINEMATICAL ANALYSIS OF HURDLE CLEARANCE TECHNIQUE IN 110M HURDLE RACE. International Journal of Behavioral Social and Movement Sciences, 4(2), 28–35. Retrieved from https://ijobsms.org/index.php/ijobsms/article/view/267
Ostler,M.J. (2014). The Triad Trial: Online Education for Coaches on the Prevention of the Female Athlete Triad. Graduate Studies at DigitalCommons@USU:Utah State University
Poczwardowskia, A., Barott, J.E., & Jowett, S. (2006). Diversifying approaches to research on athlete–coach relationships. Psychology of Sport and Exercise, 7, 125-142. Retrieved from www.elsevier.com/locate/psychsport
Short, E.S., & Short, W.M. (2005). Role of the coach in the coach-athlete relationship. Medicine and Sport, Vol 366. Retrieved from www.thelancet.com
Ward, J. (2014). Athletes' perceptions of the Relationship Maintenance Strategies in the CoachAthlete Relationship. Cardiff Metropolitan University: Cardiff school of sport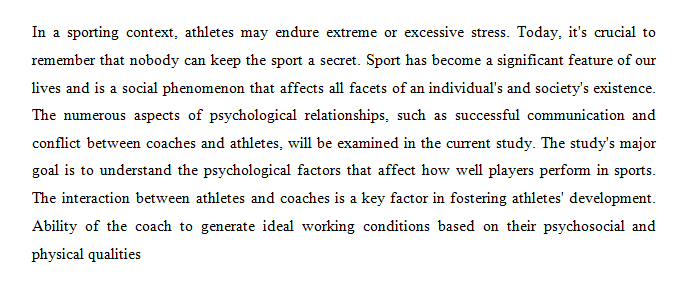 How to Cite
Singh, D., & Singh, B. (2023). IMPACT OF RELATIONSHIP OF COACHES ON ATHLETES. INTERNATIONAL JOURNAL OF RESEARCH PEDAGOGY AND TECHNOLOGY IN EDUCATION AND MOVEMENT SCIENCES, 12(02), 1-5. https://doi.org/10.55968/ijems.v13i02.321
Copyright (c) 2023 Daljit Singh, Baldev Singh
This work is licensed under a Creative Commons Attribution 4.0 International License.